Bumi Armada shares rally as oil prices hit seven-year high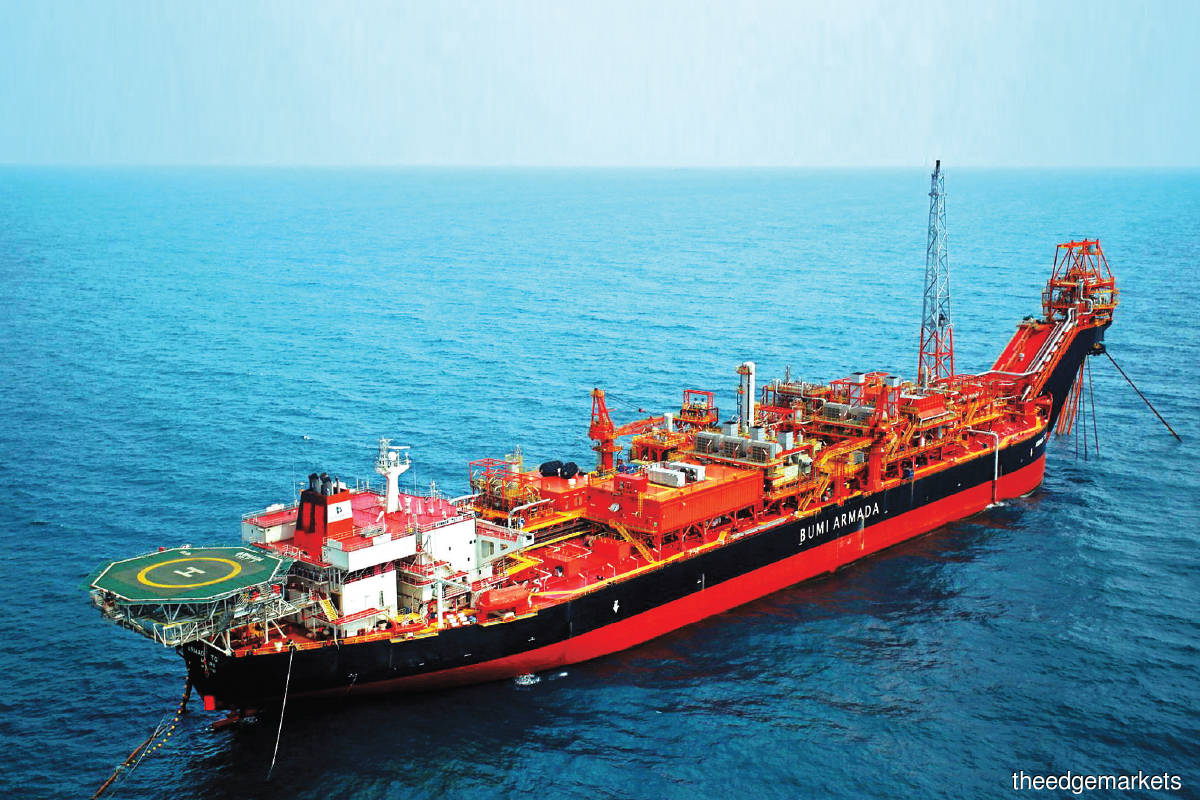 Oil and gas player Bumi Armada Bhd's share price hit a 52-week high of 55 sen last Monday as oil broke through $90 a barrel for the first time in seven years.
The stock has risen 17% year-to-date, alongside an 18% rise in Brent crude oil, which hit US$91 a barrel last Monday, the highest level since October 2014.
Rising oil prices have a positive impact on Bumi Armada as it acts as a catalyst for investments, which in turn provide opportunities in terms of new projects for the company's core business, floating production vessels. , storage and offload, or FPSO. It has a fleet of seven FPSOs (four wholly owned and three co-owned), one floating liquefied natural gas storage unit and one FPSO under construction in partial ownership.
Bumi Armada's Offshore Maritime Services (OMS) segment is also benefiting from rising oil prices, as it means new exploration activity, which creates demand for its assets. But the OMS fleet includes aging ships, which are not competitive.
However, Bumi Armada is leaving the OMS segment to focus on the more lucrative FPSO business. To that end, he announced the sale of four ice-class vessels (vessels that operate in freezing weather) to Russian oil and gas giant PJSC Lukoil for US$44.5 million (RM186.6 million). Bumi Armada is expected to use US$38 million of the proceeds to reduce borrowings and US$6.5 million for working capital purposes.
Hong Leong Investment Bank (HLIB) Research says of the divestiture: "We are positive on this development as it would be accretive to Bumi Armada's earnings in its fiscal year ending December 31, 2022 (FY2022) and beyond. , and most of the proceeds will be used to further strengthen its balance sheet…Based on our calculations, this would reduce the group's net debt from RM6.5 billion to RM6.3 billion, and the debt ratio net from 1.71 times to 1.66 times.
HLIB Research has a "buy" call on Bumi Armada, with a target price of 84 sen, up 53% from its last traded price of 55 sen last Thursday.
"We believe Bumi Armada is very compelling, given its presence in the floating generation and operations business, which provides stable recurring revenue, combined with a rapidly improving debt profile. We are confident than [the group] should see clearer skies with its continued efforts to continue to improve its balance sheet and cash flow management," the research house says.
HLIB is one of 12 brokerages with a "buy" call on the stock. RHB Investment Bank is another, with a price target of 62 sen.
"We expect its recurring revenue from fiscal 2022 to fiscal 2023 to improve by 6% to 8% absent losses from these [ice class ship] businesses, and we expect its balance sheet to improve on the back of healthy operating cash flow, driven by stable FPSO operations and continued asset monetization," it said in a note released this month. last.
Bumi Armada recorded a net profit of RM456.06 million on revenue of RM1.72 billion for the nine months ended September 30, 2021 (9MFY2021), compared to a net loss of RM18.58 million on revenues of RM1.72 billion in the previous corresponding period. The higher profitability is the result of lower financial charges, a higher share of joint venture results and a higher operating result during the year, as well as the absence of impairment losses on ships that were accounted for in 2020.
In a note following the release of the group's financial results in November last year, Maybank Investment Bank says Bumi Armada's turnaround story is starting to gain traction. "Improved cash flow and monetization of non-strategic assets are its key performance indicators. It will continue to de-equip and look for redeployment opportunities for its fleet," specifies the investment bank.
In 2019, Bumi Armada's 30:70 joint venture with India's Shapoorji Pallonji Group – Shapoorji Pallonji Bumi Armada Godavari Pte Ltd – was awarded a nine-year FPSO charter contract worth $2.1 billion. by Indian state-owned Oil and Natural Gas Corp Ltd. However, construction of the FPSO in the east coast town of Kakinada, called Project 98/2, has been delayed due to the Covid-19 pandemic.
CGS-CIMB Research, which has a 'pending' call on Bumi Armada, says: "We have included the FPSO 98/2 contribution in our price target and earnings guidance for 3Q2022, [however] these may need to be postponed… Given the uncertainties, we are applying a further 10% discount to the sum of the parts of 57 sen to derive our target price of 51 sen.
UOB Kay Hian, in a note released last month, also maintains his "hold" call on the stock, with a price target of 49 sen. "Despite rising oil prices, we don't see any near-term catalysts at this time until the subsea segment, which has been the fundamental drag for many years, manages to secure major contracts. ", reads the note.
Bumi Armada counts tycoon T Ananda Krishnan as its largest shareholder, with a 34.8% stake. Its share price has appreciated 59% over the past year to close at 55 sen last Thursday, giving the company a market capitalization of RM3.25 billion.