COVID could keep the lid on crude oil demand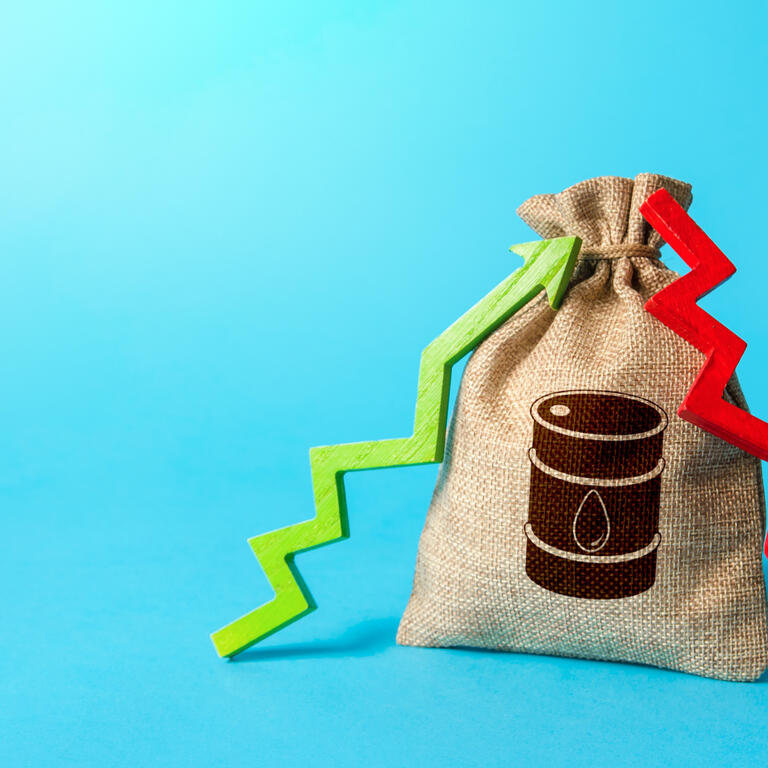 Get ready for season 3 of "Covid Catastrophe", the dystopian series that everyone is forced to watch. Season 1 saw the virus take over the world, disrupt the global economy, and kill millions. Science struck back in Season 2, using vaccines that slowed, but couldn't stop the advance of the "Delta" variant. Season 3 begins with Omicron, a new and much more contagious strain. This may represent the biggest plot twist yet, especially for the once-scorching energy market.
Oil demand surged through most of 2021 as millions of newly vaccinated drivers hit the road in the belief that "normal" was near. That demand, along with OPEC's ability to stick together as a group to hold back market crude supply, sent crude oil and gasoline prices soaring.
Confidence in vaccines is waning as more "breakthrough" cases hit the media. Omicron, ultra-contagious, does not help in any way. This is probably the biggest threat to the current crude oil bull market. But it's not the only one. Poor poll numbers resulting from high prices at the pump forced President Biden to become personally involved in a coordinated effort to bring prices down. It has been surprisingly successful so far.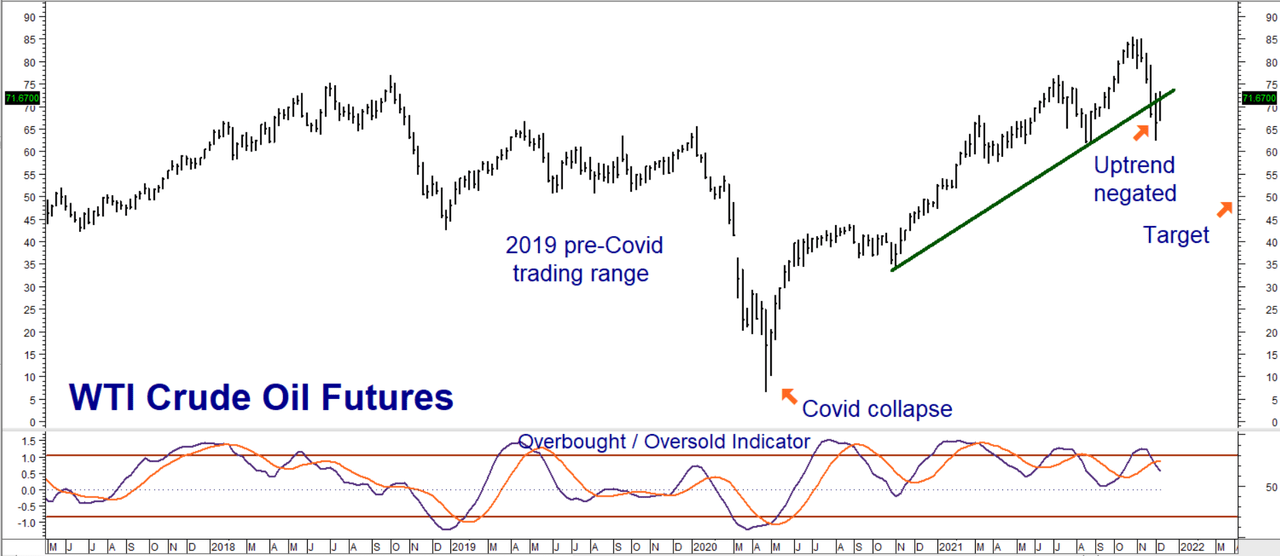 Data source: Reuters/Datastream
West Texas Intermediate (WTI) crude oil futures peaked days after Biden's decision to release supplies from the strategic reserve. First-month futures fell rapidly from a high of $84.97 a barrel to a low of $62.43 – a drop of 27% – in just four weeks. We believe there are more downsides. Omicron, slowing demand and the potential for discord within OPEC should help limit prices as we approach the end of winter and early spring, a period of seasonal weakness for crude. Our target is $50.00 per barrel.
Crude oil demand is not expected to increase much in 2022
The U.S. Energy Information Administration (EIA) estimates global crude oil consumption in 2021 at 97 million barrels per day. This is less than pre-pandemic levels. He expects consumption to increase slightly in 2022 to 100.5 mbd and forecasts global production in 2022 to be 100.93 mbd, slightly above forecast demand. As the chart below illustrates, the oil market is now in balance after months in the aftermath of the pandemic when demand outstripped supply.
Our target of $50 a barrel represents the bottom of the trading range that formed pre-Covid when the market was in equilibrium. (See chart above.) It's also a price that keeps many US producers pumping profitably.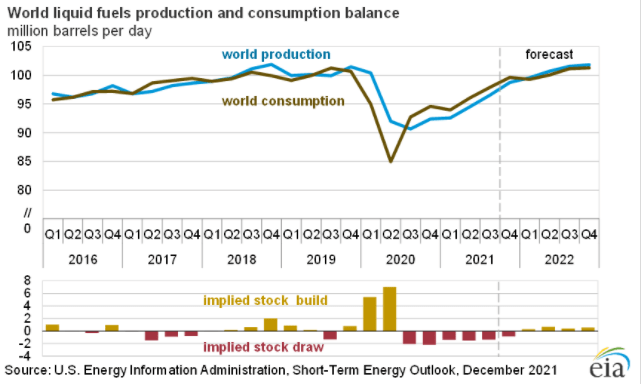 The key to crude in the hands of OPEC
The OPEC unit is primarily responsible for Crude Oil's monster 18-month rally. But how long will this still last? Brimming with oil money, Russia is building up its forces on the Ukrainian border in preparation for a possible invasion. At the same time, Saudi Arabia is a longtime US ally trying to mend its relationship with the United States after the murder of journalist Jamal Khashoggi.
An ongoing diplomacy between Saudi Arabia and the United States may be taking place at this time. It wouldn't surprise us to see more of the Kingdom's excess capacity released in exchange for increased arms sales or some other favor. The release of more oil by the Saudis would help lower US gas prices. It would also hurt the Russian treasury at a critical time, giving Vladimir Putin reason to reconsider an attack on Ukraine.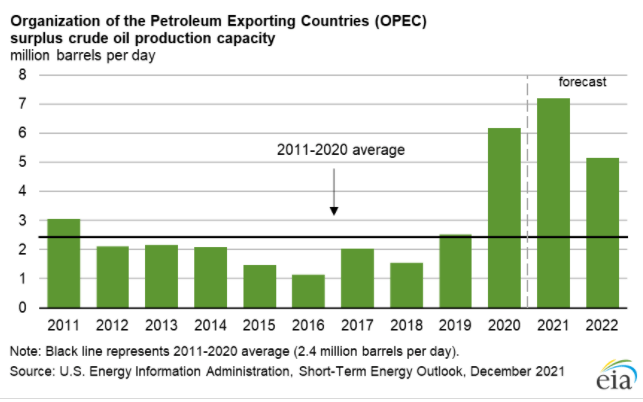 The EIA expects OPEC to hold fewer barrels from the market in 2022. This removes much of the fuel that fueled the crude oil bull market in 2021.
Consider using Bear Put spreads to make Bear Play cheaper
Crude oil is notoriously volatile. This volatility is currently reflected in its options, making them expensive. One way to reduce the cost and risk of a bearish option position is to match the purchase of one put with the sale of another put with a lower strike price. This greatly reduces the cost of the position's embedded volatility, as selling the put option with the lower strike price helps offset much of the volatility premium embedded in the put option with the price. superior exercise.
Our trading clients may consider placing an order to buy April 2022 WTI Crude Oil Put Options at $55.00 while simultaneously selling an equal number of April 2022 WTI Crude Oil Put Options at $50.00 for a net cost of $690 or less, looking for crude oil to meet our target of $50 before until the April option expires on March 17, 2022. Your maximum risk is the net amount paid for your "bearish sell spread" plus transaction costs. This spread has the potential to be worth up to $5,000. Exit all positions if and when our target of $50/bbl is reached.
Please note that you need a futures account to trade the markets in this article.
Visit RMB Group to learn more.
This material has been prepared by an employee or sales or trading agent of RJ O'Brien & Associates ("RJO")/RMB Group and is, or is in the nature of, a solicitation. This document is not a research report prepared by a research department. By accepting this communication, you acknowledge that you are an experienced user of the futures markets capable of making independent trading decisions, and agree that you do not rely or rely solely on this communication to make trading decisions.
DISTRIBUTION IN CERTAIN JURISDICTIONS MAY BE PROHIBITED OR RESTRICTED BY LAW. PERSONS IN INDIRECT POSSESSION OF THIS COMMUNICATION MUST INFORM THEMSELVES OF AND RESPECT ANY SUCH PROHIBITIONS OR RESTRICTIONS. TO THE EXTENT THAT YOU RECEIVED THIS COMMUNICATION INDIRECTLY AND SOLICITATIONS ARE PROHIBITED IN YOUR JURISDICTION WITHOUT REGISTRATION, THE MARKET COMMENTARY IN THIS COMMUNICATION SHOULD NOT BE CONSIDERED A SOLICITATION.
The risk of loss when trading futures and/or options is substantial and each investor and/or trader should consider whether it is a suitable investment. Past performance, whether actual or indicated by simulated historical testing of strategies, is not indicative of future results. Trading advice is based on information from trading and statistical services and other sources that RJO/RMB believes to be reliable. We do not warrant that this information is accurate or complete and should not be relied upon as such. Trading advice reflects our good faith judgment at the time and is subject to change without notice. There is no guarantee that the advice we give will result in profitable transactions.
Original post
Editor's note: The summary bullet points for this article were chosen by the Seeking Alpha editors.